CHECK BACK IN AUGUST FOR DETAILS OF THE 

TOTAL CHOCOLATE FESTIVAL EXPERIENCE

with the SILVER BAR TICKET!
This is THE ticket for the Chocolate Festival-goer!
________________________________________________________________
Tickets go on sale this summer!

ROY THOMSON HALL, Toronto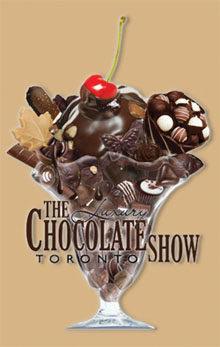 TICKETS ARE NOT AVAILABLE AT THE ROY THOMSON HALL BOX OFFICE.
THEY ARE ONLY AVAILABLE IN ADVANCE ONLINE or AT THE CENTRE DOORS the day of the Show.
General Admission at the door* (13 years and over): $25.00 (all taxes included)
Discounted General Admission Tickets Online : $21.00 + service charge.
Children 5 to 12 accompanied by an adult (at the door) : $15 .  Not available on line.
Children 4 and under accompanied by a parent: FREE
Infants must be carried in arms. NO STROLLERS allowed on the show floor. 
GROUP RATES (10 or more) are available by calling 905-593-1608


What Does My Ticket Include?
Admission to the Chocolate Show on Sunday, November 3, 2013
Special presentations, features and contests.
Costs are extra for the wine pairings and special purchases.
*Subject to venue capacity regulations
*Only 3,000 Discounted Tickets Available On Line (SOLD OUT LAST YEAR)
Tickets available at the door on the day of the show
_____________________________________________

The 8th Annual
CHOCOLATE BALL
Date and Location To Be Announced
For more information, visit the official web site www.TheChocolateBall.com
*Non-reserved seating. This is a cash bar event.