The Deliriously Delicious
Toronto Chocolate Festival
returns for its 8th year!
As a Toronto city-wide event, the 2013 Toronto CHOCOLATE FESTIVAL, is back for its eighth year. This is the event where CHOCOLATE is featured in all its magnificent and tasty forms. THE TORONTO CHOCOLATE FESTIVAL 2013 will once again present several delectable, delicious and simply decadent events including some new ones.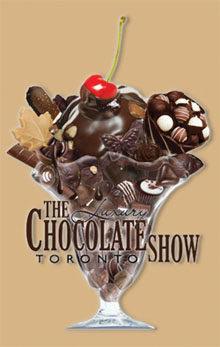 3rd Annual "CHOCOLATE SUNDAY" Event
ROY THOMSON HALL Rotunda
November 3, 2013
11:00 am to 7:00 pm
Roy Thomson Hall
Chocolate Exhibitors will once again be on hand to showcase their product and services at this one-day delectable showcase. Taste the best chocolates in the world and take in some of the popular features of the show include the THE WINE + CHOCOLATE TASTING EXPERIENCES, CHOCOLATE MAKERS DEMO STAGE,  THE CHOCOLATE MAKING ROUNDTABLE, CHOCOLATE KIDS CAMP, CHOCOLATE EATING CONTESTS and more. Lots of free draws and select sampling
For updates on this event you can visit torontochocolateshow.com.
---
Date and Location to be Announced
The Festival starts off with its annual signature event THE CHOCOLATE BALL. This is the 8th year for The Chocolate Ball. This has become one of Toronto's most anticipated annual events featuring everything chocolate to feed all your senses. Taking equal billing is the continuous live and recorded entertainment and the fabulous trademark floor shows by THE DANCE COMPANY and more including the silent auction and many prize give-aways.
For updates on this event you can visit www.TheChocolateBall.com
Tickets on sale in April  2013 at www.TheChocolateBall.com or www.TicketBreak.ca
---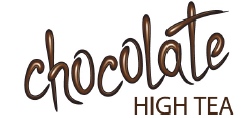 October 18 – November 3, 2013
Check with the hotel for availability sittings
The King Edward a Skyline Hotel
37 King Street East, Toronto
(416) 863-4125
You can relax during the Toronto Chocolate Festival by visiting The King Edward a Skyline Hotel where they will be offering up high tea complemented with chocolates and chocolate pastries. A decadent afternoon break. For dates, times and to make reservations please call the venue direct.
---

October 18 – November 3, 2013
(CITY WIDE)
Download coupons as they become available. Redeemable during the festival dates only.
Chocolatiers and pastry shops throughout the GTA will once again open their doors and invite visitors to taste their chocolate delights with once a year offerings and samplings. Thousands of chocolate lovers redeemed their coupons in 2012.
---

Murder

 Mystery Dinner
Mystery Mysteriously Yours Dinner Theatre
Date to be Announced
2026 Yonge Street, Toronto (South of Eglinton)
ONE NIGHT ONLY
$95 per person. All net proceeds to Prostate + Breast Cancer Initiatives
Enjoy a great murder mystery night with lots of laughs and a chocolate infused meal prepared specially for the Chocolate Festival. Call 905-593-1608 to reserve your table.
---

Date and Location to be Announced
The 2013  9-1-1 Chocolate Relay is going to be another crazy and fun event where Firefighters, Police and Paramedics fight to the finish in what has become chocolate warfare. Each team battles it out to beat the clock and win the coveted "Chocolate Bowl" by devouring chocolate – and more chocolate. The title is currently held by the Metro Toronto Police.